You are here
Home
» Affiliated Early Career Researchers
Affiliated Early Career Researchers
Rachel Frish, Postdoctoral Fellow
Dr. Frish is a postdoctoral fellow at Yale Divinity School and a research fellow at the Kogod Research Center for Contemporary Jewish Thought at Shalom Hartman Institute of North America. Her main research interests include prophetic literature and biblical and post-biblical wisdom literature. Frish explores the development of traditions and worldviews from the Bible through Tannaitic literature and early Christianity.
She seeks to define the core ideas that characterize the biblical traditions as well as their unique developments in the various literary works, tracing their theological range and later developments. Frish's research combines a range of methodological approaches, including philological-historical, literary, biblical semantics and comparative analysis to Ancient Near Eastern cultures.
Frish's dissertation — completed in 2021 at Bar Ilan University and titled Wisdom Sayings in the Book of Jeremiah — discusses the nexus of wisdom and prophetic traditions in the book of Jeremiah, examined how these traditions influenced each other and pointed out the implications on the development of wisdom tradition and texts. Her current research at Yale focuses on the source of wisdom in biblical and post-biblical works. Publications can be found here.
---
Jenna Kemp, Affiliated Researcher
Dr. Kemp is a postdoctoral fellow at Universität Basel, working on the research project, "Transforming Memories of Collective Violence in the Hebrew Bible." Her research interests focus on socio-literary approaches to the formation of the Hebrew Bible as she examines the entanglement of textual production and interpretation. Kemp received her Ph.D. from UC Berkeley in 2021 and is preparing her dissertation — "Forgetting to Remember: Theorizing the Role of the Forgotten in the Production of the Hebrew Bible" — for publication.
In this project, she examines the Bible as a cultural object and analyzes the detectable text formation practices therein (e.g. redaction, additions, etc.) as acts of cultural memory. Her main interest in doing so is to situate cultural memory as a process that can account for the transmission of cultural objects over time. Forgetting, she argues, functions as a key element in this process and in the formation of cultural symbols as sites of memory. In her work broadly, she blends philological approaches to the Bible with theoretical approaches to historiography, cultural memory, and literary culture. At Universität Basel, Kemp is beginning her next project, which flows conceptually from her dissertation and approaches the theme of mass annihilation in the book of Joshua. She seeks to understand how the memory of these fictive events are transformed not only in the composition of Joshua itself, but also in early interpretive communities.
---
Esther Brownsmith, Affiliated Researcher
Dr. Brownsmith is a postdoctoral fellow at MF Norwegian School of Theology, Religion and Society in Oslo, affiliated with the Centre for Advanced Study project, "Books Known Only By Title: Exploring the Gendered Structures of First Millennium Imagined Libraries." Her dissertation, "Inconspicuous Consumption: Conceptual Metaphors of Women as Food in the Deuteronomistic History," was completed in 2020 at Brandeis University. In it, Brownsmith investigates the metaphorical basis of three biblical texts that depict violence against women. Through close philological analysis, she demonstrates that these texts utilize the narratively realized conceptual metaphor of women as food, portraying their female victims as consumable objects. She is currently preparing it for publication as part of the Routledge series, The Ancient Word.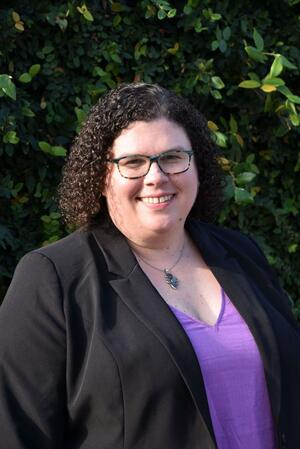 The affective dimension of scholarship—such as the longing to see oneself in the literary past—colors Brownsmith's investigation into biblical and other Second Temple texts. Using historical-critical and philological tools as the foundation for close reading, but simultaneously subjecting them to a self-conscious critique as situated in social identity, Brownsmith aims to investigate the structures of power that biblical texts both rely upon and reinforce. In her newer research, Brownsmith is using the lens of fan fiction theory to reevaluate aspects of the book of Esther, ranging from queerness to canonical status; her forthcoming monograph is tentatively titled, Queen of the Alternate Universe: Reading the Book of Esther as Fan Fiction.